• Smart Bluetooth 5.0 Mobile App monitors battery data in real-time.

• Connected with up to 2 batteries in Series, 4 batteries in Parallel. 
• Both Series and Parallel connection: total voltage and capacity 24V 400A. Note connect in Series first and then in Parallel
• Cycle Life: 4000+ cycles at 90% DOD.
• Automotive grade lithium battery cell and High reliability tested BMS.
• Low temperature charging cut-off protection.
• Cells and Packs are all UL Listed.
• Automotive grade laser welding process for cell bus bar.
• Design for disassembly cover with replaceable BMS and cells.
• Certified with ISO9001/UL/CE/UKCA/Bluetooth BQB/UN38.3/SDS.
• U.S. local warehouse, fast delivery.
Description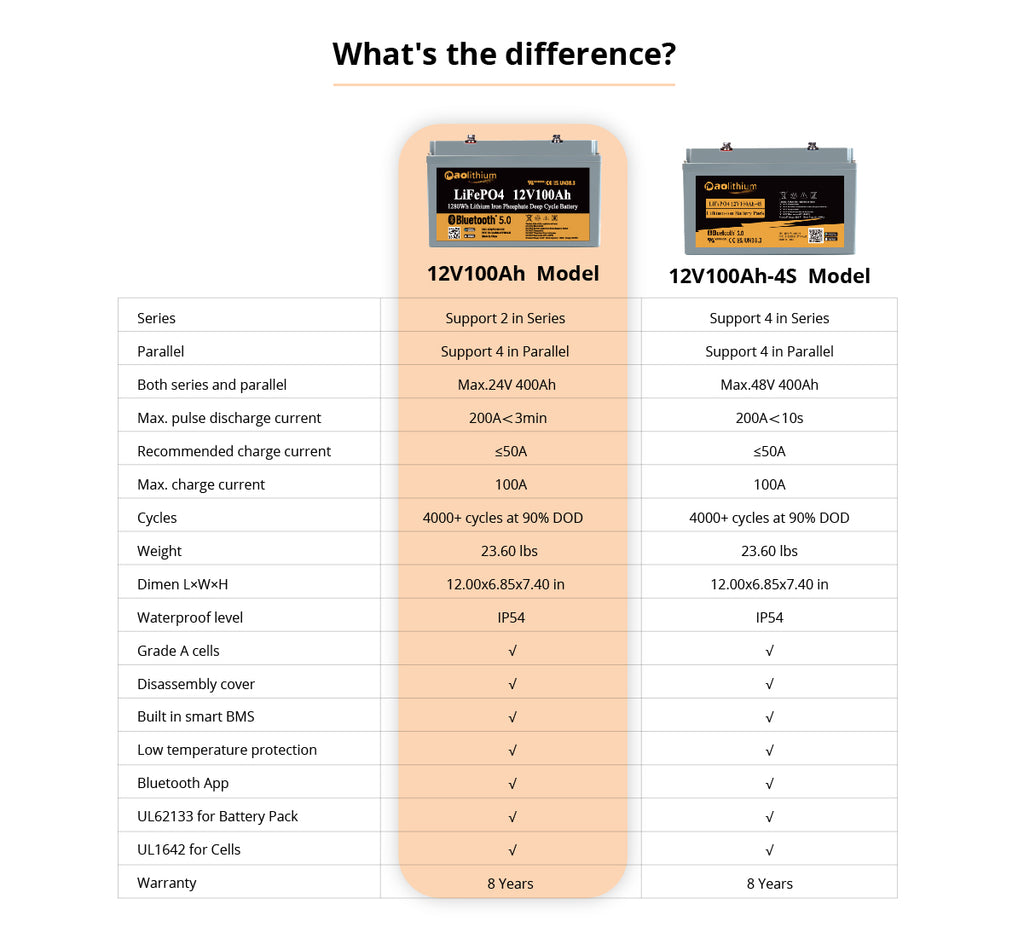 Bluetooth 5.0 Mobile App Monitor in Real-time
Built-in Smart Bluetooth Modules monitoring from your phone, so you can know exactly what your battery data is at any time. Aolithium batteries have approved the Bluetooth BBQ Listing, FCC ID, and CE RED certification.
Data in real-time:
Battery state of charge in *% (SOC)
Estimated charge / run time
Charge / discharge switch
Balance / protection state
Battery voltage
Charge / discharge current
Battery temperature
Remaining capacity
Number of charge/discharge cycles
Average voltage
Rated power
Integrated Battery Management System (BMS)
The battery protection board has a strong load capacity, BMS protection function: 4 battery-cell series protection, charging and discharging protection, hardware protection for discharge overcurrent and short circuit, software protection for overvoltage, undervoltage, temperature, overload, accurate SOC calculation, with automatic learning SOC function,
UART communication function which can read all battery data in real time, and online upgrade, compatible with Bluetooth interface, reserved switch to control the output of the protection board, and low temperature charging and heating function.
Grade A Cell
Aolithium 100 amp hour lithium-ion battery uses the best grade A cells so your battery lasts longer and performs better. All cells are fully listed and meet the UL1642 standards. 
Certification
The 12v 100ah lithium-ion battery pack are certified with ISO9001/UL/CE/UKCA/UN38.3. Meets all US & International regulations for air, ground, and train transport.
Revolutionary Battery Pack Technology
1. The battery uses practical-grade case made of ABS material which is hard and non-flammable;
2. Adopting laser welding process of automotive-grade power battery for cell busbar, with characteristics of energy concentration, high welding efficiency, large welding seam aspect ratio, and welding High strength, small heat input, small heat affected area, etc;
3. With high-quality and customized thick copper bus connections inside to ensure the over-current capability and greatly reduce the possibility of cross-polarity;
4. Adopting advanced fixing plate and bolt technology to ensure the stability of the battery.
Long Runtime
Our 12 Volt 100Ah Lithium LiFePO4 battery has a minimum of 4000 cycles time, and the design life is up to 10 years. Even after 4,000 cycles @ 90%DOD, they're still capable of producing 70% of rated capacity. While lead-acid batteries only left 50% rated capacity after they hit their 300 to 500 cycles life.

Portable and Powerful
This 12Volt 100 amp hour lithium battery is only a third of the weight of lead acid. It's the perfect combination of size and capacity, lighten your load to improve handling. Perfect for many applications including, RV, marine, solar energy systems, and more.
Environmental Friendly
Our 100ah lithium leisure LiFePO4 battery can be stored practically wherever they fit. They don't give off toxic fumes of any kind — no fumes, no venting. But Lead acid batteries need to be stored in an outside compartment with vents because they give off toxic vapors, which makes it difficult to store them properly.
Widely Used
Our 12 volt 100ah lithium battery can handle just about any deep cycle applications, such as RV, van, camper, marine, camping, off-grid, solar home, UPS backup, golf cart.
NOTE:
This model can be connected with up to 2 batteries in Series, 4 units in Parallel. 
Both Series and Parallel connection: total voltage and capacity 24V 400Ah, please connect in Series first and then in Parallel.
If you want to connect batteries in series, they need to be in the same state of charge (SOC) before connecting.
The battery needs two deep charge/discharge cycles before the Bluetooth App can be calibrated to the correct nominal capacity.
Specification
| | |
| --- | --- |
| Nominal voltage | 12.8V |
| Nominal capacity (25℃, 0.2C) | 100Ah |
| Energy | 1280Wh |
| Load power | 1280W |
| Weight | 23.60 lbs / 10.7kg |
| Dimen L×W×H | 12.00x6.85x7.40 in / 305x174x188 mm |
| Terminal | M8 |
| Cycle life (+20℃ 0.2C 90%DOD) | ≥4000 cycles |
| Voltage window  | 10 - 14.6V |
| Charge voltage | 14.6V |
| Max. continuous discharge current | 100A |
| Max. continuous charge current | 1C (100A), @15℃<T≤45℃ |
| Max. pulse discharge current(long pulse) | 2C (200A)<3min |
| Max. pulse discharge current(short pulse) | 3C (300A)<5s, @ T<50℃ |
| Operating temperature (charge) | 0 °C~55°C / 32℉~131℉ |
| Operating temperature (discharge) | -20°C~ 60°C / -4℉~140℉ |
| Storage temperature | -20°C~ 35°C / -4℉~95℉ |
| Safety standard | ISO9001/UL/CE/UKCA/Bluetooth BQB/UN38.3/SDS. |
Downloads
• 12V100Ah Battery Specification
• Aolithium Batteries User Manual